Mini Tennis + Football course 2hr/day (4/5 y/o) - Val d'Isère
Product customization
Don't forget to save your customization to be able to add to cart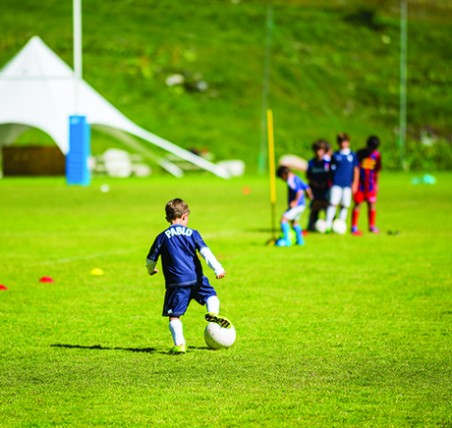  
9.30 a.m. to 11 a.m. = 1h30 Tennis course + 1h Football course
General information:
From Monday to Friday
Tennis from 9:30 a.m. to 11 a.m.
Football from 11 a.m. to 12 p.m.
2h30 per day
You drop your child off at tennis at 9:30 a.m. and pick him up at football at 12 p.m.
Tennis course informations :
A professional coach
Passing a technical test
Medal and diploma offered
Prize giving on Friday
Equipment loan
Postponement of lessons in case of rain
Registration possible during the internship
Course open from 3 people
Football course informations :
Supervision: Stevenson Frédérick (semi professional, State diploma 2 Degree)
The sessions consist of a warm-up / games / motor skills / exercises.
Rigor, progression and success take place in a holiday atmosphere! Each session is closed with a small match.
The courses prepare certain children to return to their clubs, with real progress and a technical and physical advantage.
Juggling, technical and individual speed and tactics tests.
Data sheet
Services

Group courses

Locations

Val d'Isère

Age

Mini Tennis 4/5 y/o